Good day mate...

Last night, I dont have a mood to update my blog because I had a raining nose disease since last morning. And last night I managed to sleep early hoping my nose will be better tomorrow. Fortunately, it really happen today although it is not 100% heal. But no worries, insyaAllah it will be better in this afternoon. Hope so...

Today, I woke up earlier than yesterday (7.03 am compared to 8.30 am in yesterday). Usually, after praying my subuh and read two pages of Al-quran, I will definitely open my laptop and try to make me connecting to the world. I love to read the news in utusan.com.my and what i'm figured out today is Chong Wei failed to give Malaysia a first ever gold medal after he smashed down by the world first ranking, Lin Dan. The newspaper alleged that he was not playing as he did when struggling to the final. I think he was very nervous since he was the only hope to win the first gold ever in Olympic games. But, actually it is a fabulous performance in Malaysian squad (single game) as the last medal won by Rashid Sidek is only bronze in Atlanta 1996.

I'm finished on Olympic games and I should turn to my attention what was happen yesterday since it is became my blog title for today.

We (Ina, Akmal and me) had a very good time and memories yesterday in University of Melbourne. Bro Nazrul supposed to join us but in last minute he drawed back after he needs to accompanying his boss who had a meeting last morning. Hadi who came early to my place being a replacement of Bro Nazrul but he only spent approximately 15 minutes together then he dismissed to Victoria Market after grabbing some "roti telor" brought by Ina LOL.

And Akmal suppose to fast yesterday ( it was nifsu syaaban - middle of syaaban), he even refused to drink tea that I had made special for him but finally he cannot fight against "godaan" Ina. He broke his fasting with the 2 pieces delicious "roti telo" and vitamin water (we went through a long queue to got that water).

Our target to collect the freebies in the open day was accomplished.


couple of

bags

with Unimelb anthem (cost of $2.50)
3 pieces of

pens

of differences faculty in Unimelb

paper bag

from economic and commerce faculty

balloons

with Unimelb anthem
a

keychain

from Yarra tram
a box of

tissues

(it really worth it for me LOL)

Drinking bottle

from STA travel... Bro Nazrul, dont be jelous ok

We also got a free foods there.
vitamin water (it is cranberry flavor)
original donut of crispy creame.
some sweets
"roti telo" ina lol
Unforgotten, I got stomached that afternoon. Dont worry ina, its not your fault. hehe. She really afraid if her "roti telo" had caused me stomached. But i dont think so.
We never forget to take pictures on the open day. Thanks akmal n ina for being my photographer.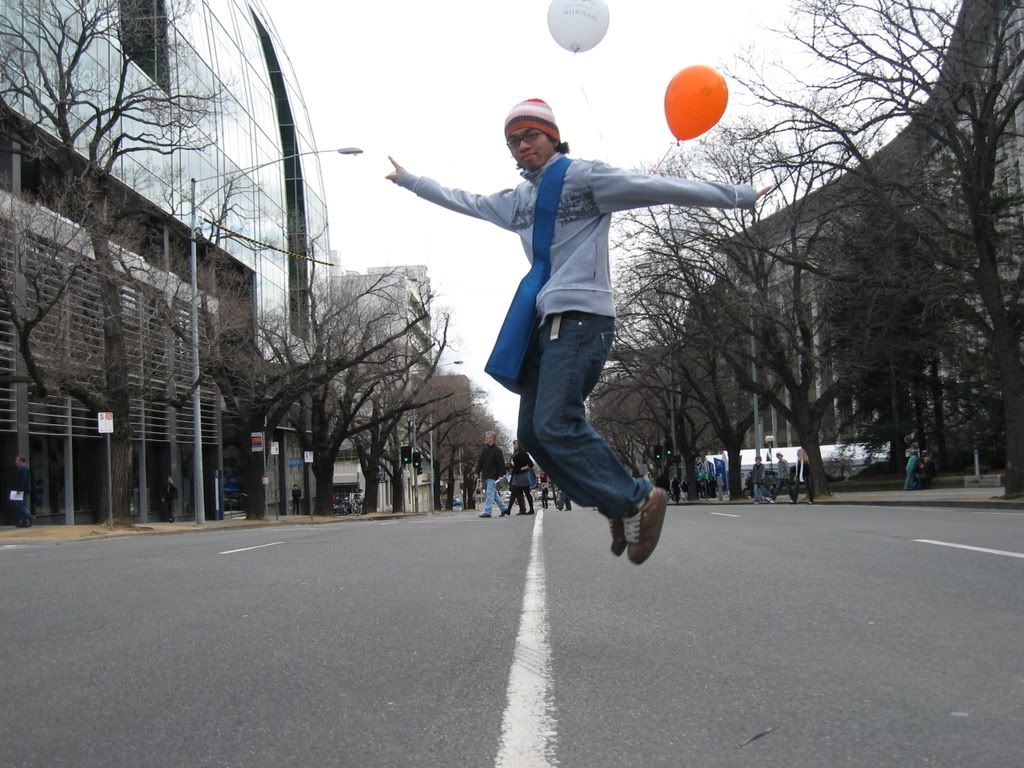 we need to exercise too... jumping is one of my favorite.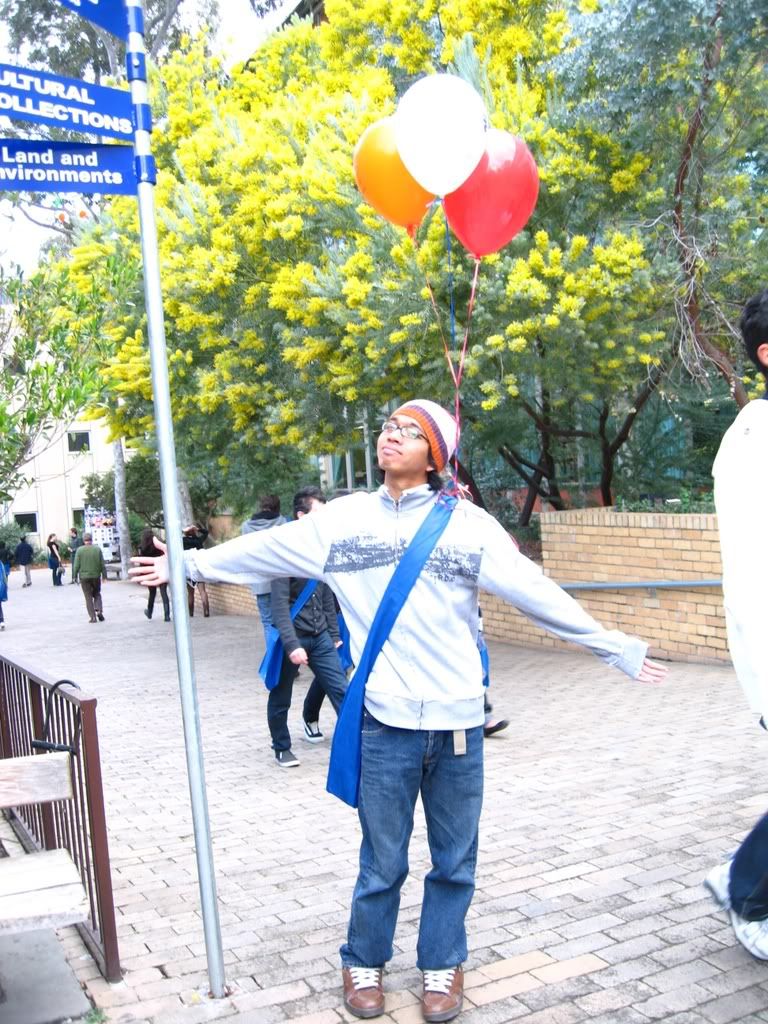 me and the balloons... do u think me like a clown?? LOL
a long queue for vitamin water... nasib baik ade ina... LOL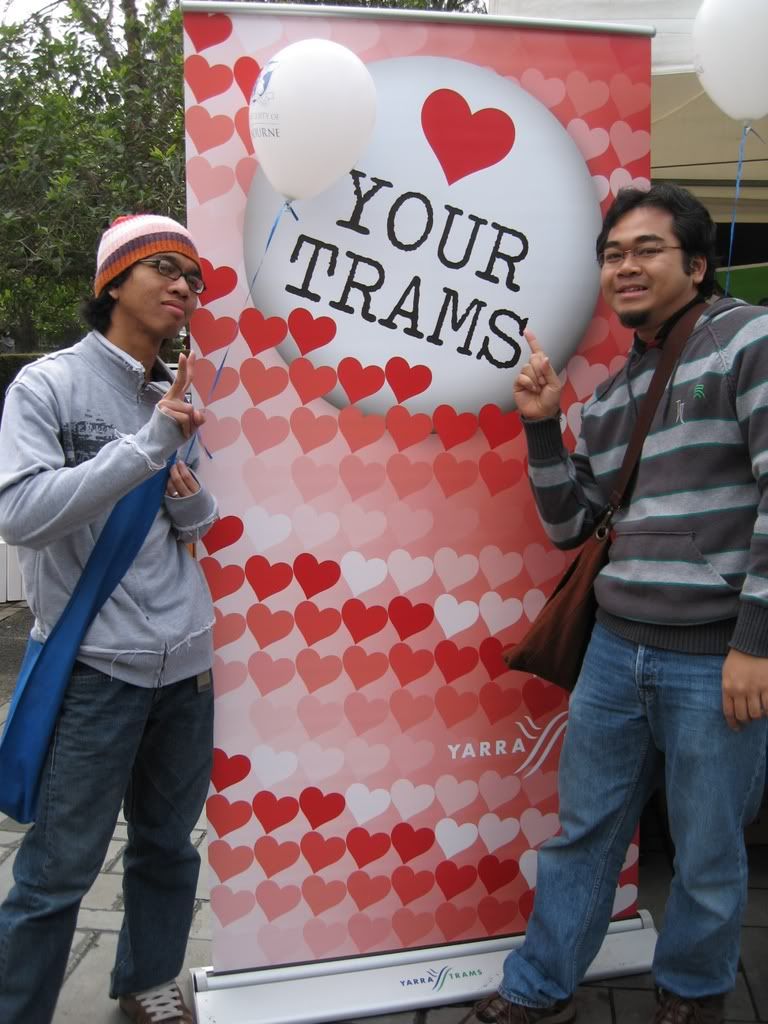 we loves yarra trams...
I was the unimelb student... hehe... dont trust me... LOL